This post is basically how I make my photos go from "Oh, that's pretty" to "UHM, EXCUSE ME??????" in Photoshop...in my opinion anyways. Experimentation ahead!
There is literally an indefinite number of ways you can experiment and edit photos in Photoshop, but with that amount of freedom, editing can be a daunting task if you don't know what tasks are available, how to use each task, and if you don't have expectations on how your photos should come out. Of course, I am in no way a Photoshop ~jedi~ and people have different editing styles, but one of the best decisions that I made in highschool (ok I lie, my friend pressured me) was taking a media class where I learned to use Photoshop/Illustrator/other Adobe applications.
(Also, it totally helped that I was friends with some artsy fartsy people)
I feel like the most commonly used basic tools in Photoshop are curves, levels, brightness/contrast, colour balance, exposure, etc., and for the most part, I use a combination of those. Also, most of this editing business is based on your own preferences, requires loads of experimentation time and using your own judgement.
_________________________________________________________________________
Anyways, this is basically how I
lie to you all
edit my photos. As usual, I can't stress the right
lighting/setup
when taking photos, because it will make the editing process
sooooo
much easier.
I'll be using this photo for most of the process. Before/original photo was taken indoors at 18mm, 1/40 f3.5.
Optional Step One
I usually start off with hitting a combination of '
auto levels
', '
auto contrast
' and/or '
auto colour
', and this tends to work better in well lit photos. However, if the photo already has pretty/decent lighting I like, or if 'auto' ruins the photos (it happens) I just move to the next step.
Here I used 'auto levels' and 'auto contrast' because I didn't like how dull/grey-er 'auto colour' made the photo.
Step Two (or Step One, if I omit 'auto')
What on earth would I do without
brightness/contrast
? SOBBING OVER THE LAPTOP KEYBOARD, THAT'S WHAT.
I've upped overall photo brightness to +23, which isn't too bright, but it allows for flexibility in the next step. Look at that difference already!
Step Three
One of the first things I learned in Photoshop was to play with
curves
. Ctrl + M, or Image>Adjustments>Curves.
Pulling down the left side in curves deepens contrasts, and as well, you could also pull it up to reduce contrast. Pulling up the right side results in a brighter picture, as well, you can pull up/down the middle section. Honestly, curves is probably one of most fun steps of all....to me.
Step Four
Oh, how I love
finishing touches
. Steps 1-3 are great for basic editing, but I like to take it a notch up and crop, bump up vibrancy, change up colour tones, etc.
For this photo, I pulled my sneakiest trick. SO SNEAKY, and now you guys know why I love shooting straight lines so much. I can easily use the
Selection Tool
, select the area I want to edit, and whatever changes I make will only apply to the selected area.
Here, in order to increase the vibrancy of the magazine/travel guide, I've selected the area and played with curves to deepen the contrast. LOOK AT THOSE COLOURS.
Additional editing was also done, as outlined in this photo sequence. (Click to blow up)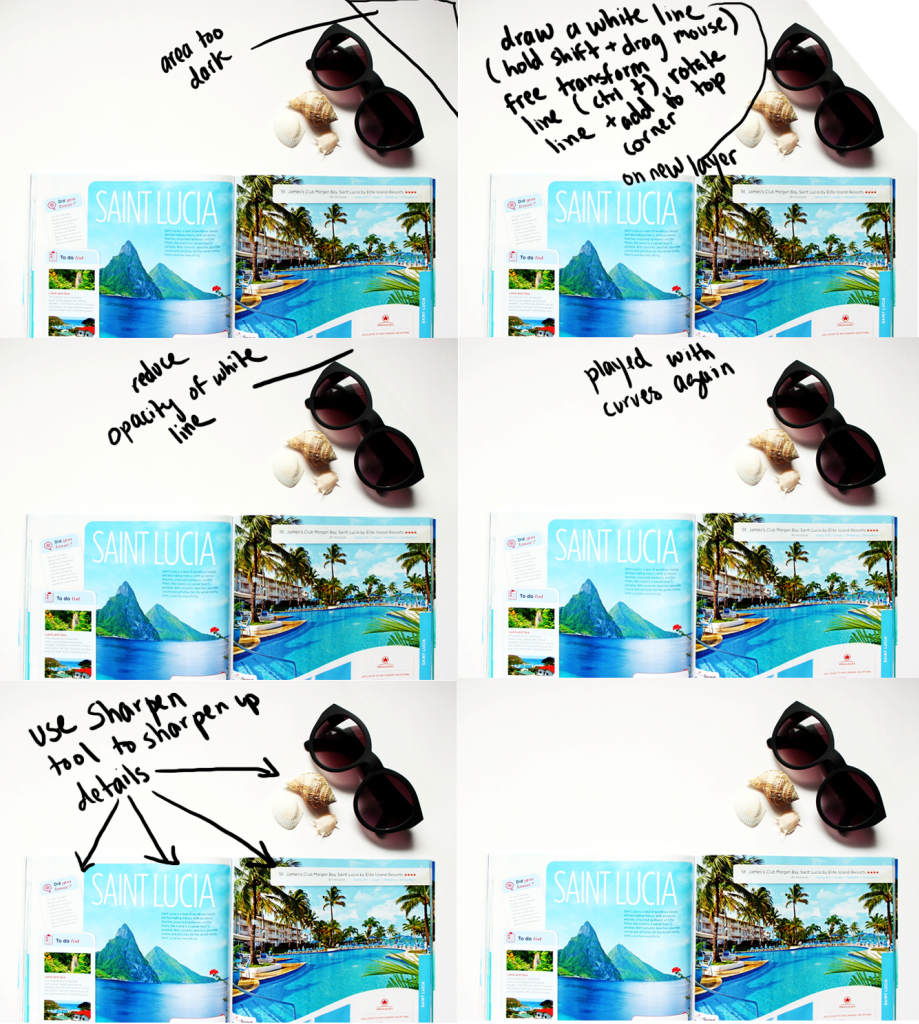 After I'm done, I
save the final picture in PNG
. JPEG is another option, but I find PNG crisper.
Step by step of the entire editing process as according to the steps
(click to blow up)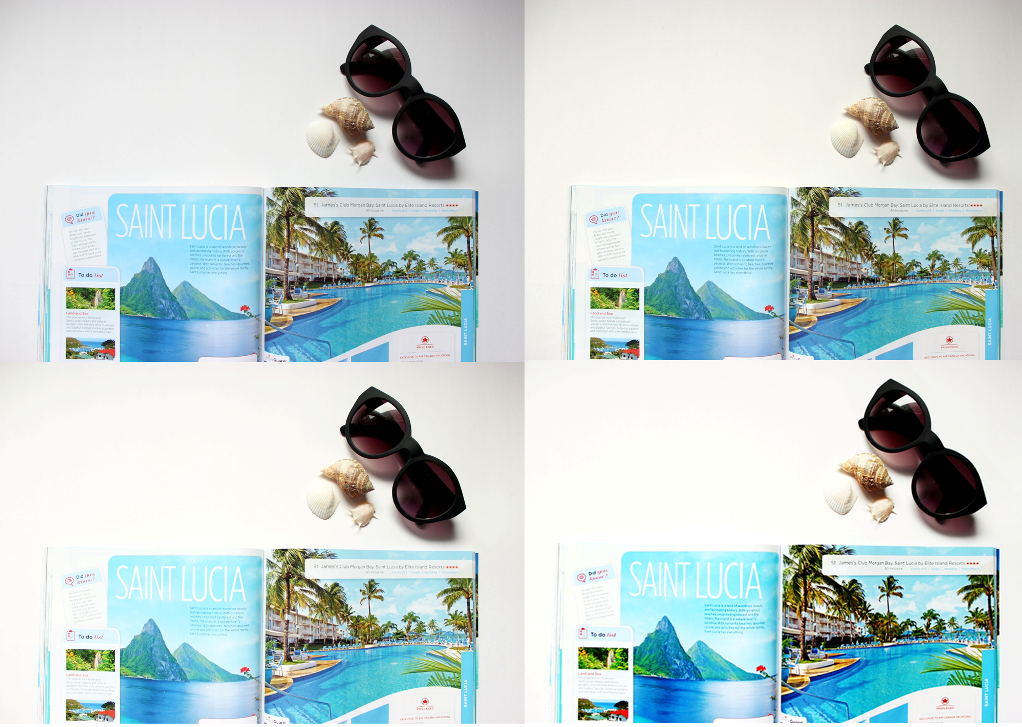 ______________________________________________________________________________
Changing overall colour in a photo is also easy. Most of the time I use 'auto colour', unless it gives me undesirable results, to which I'll then whip out Image>Adjustments>Colour Balance to manually correct colour.

For black and white, I usually use Image>Adjustments>Black and White.
Here, I wasn't satisfied with the yellowy tones in the original picture, so I did steps 2 + 3 (brightness and curves), pulled out colour balance and slid the bars towards blue and cyan. The final result is a touch bit dreamier, in my opinion.
Gamma correction is also popular among ~bbloggers~ because ~wo w so dreamy~. I sometimes use it to mute the overall colours in a photo.


Vibrancy/colour saturation and desaturation can easily altered by various means, but I usually use the Dodge/Burn/Sponge tool.
Note the changes on the compact's face.
_______________________________________________________________________
Of course, you don't necessarily need Photoshop to get your editing done. Back in the olden days when I didn't have Photoshop, I would edit with Microsoft Windows Picture Manager. Not too shabby for a quick fix, eh?
As per usual, I can't stress good lighting and correct use of the camera functions. Photo on the left is obviously unedited, and that's fine, but I like a quick brightening up.
_______________________________________________________________________
Of course, this is my no means a comprehensive post on editing, just my preferences and what I normally do. This is my editing at it's most basic, and there are plenty of other resources to look into, such as
Photoshop 'actions'
, '
You Suck At Photoshop
' (a hilarious video series that teach the basics), and heck, even
Deviantart
has a whole slew of photo editing tutorials to look at once you understand the basics of the program.
SO YEAH, THAT'S BASICALLY IT. MY DIRTY EDITING SECRETS REVEALED. But of course, I'm always discovering new functions in Photoshop, so nothing is static.
Do you bother editing your photos? Or do you rely on your lens + lighting to do the work?