Alternate names for this haul:
- The 'Wait, Where Did My Money Just Go?' Haul
- The 'DAF-Q HAPPENED TO MY INHIBITION' Haul
- The 'SCHOOL STRESS MADE ME BUY IT' Haul
- The 'So I-Fail-At-Academics-But-At-Least-I-Still-Have-Nice-Things-To Pawn-Off-In-Case-Of Homelessness-In-The-Future' Haul
I had a
report and four midterms
that jacked my ~swagger~ last week. You know, the usual ~crushing of self-esteem-and-dreams-and-aspirations~ university season. No biggie.
(don't mind my sobbing in the background)
But thankfully, retail therapy exists. Though it doesn't do the wallet any favours in your panic-stricken state, you can't deny you feel 1000x happier with your new shiny thingamajigs, and much more motivated to study to justify your spending. It's a win-win situation!
(...nobody cares about you, wallet...)
(I keep thinking I'm not one for consumerism, and yet here I am with a giant stash of stuff that's only justified because a lot was on sale and I practically have backups for my backups now omg ;-;)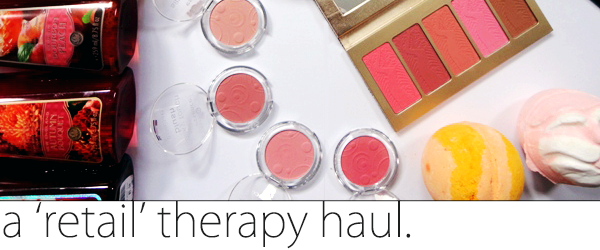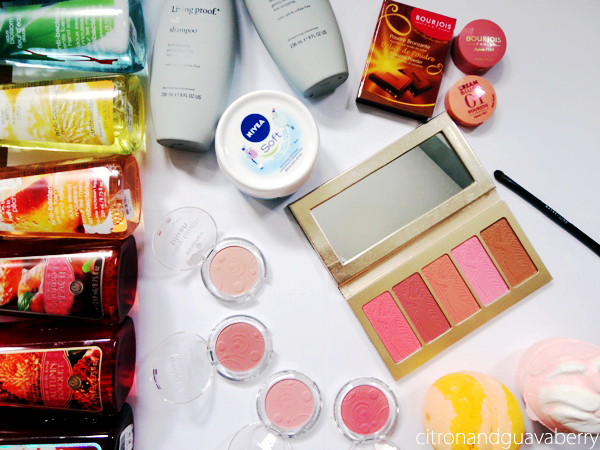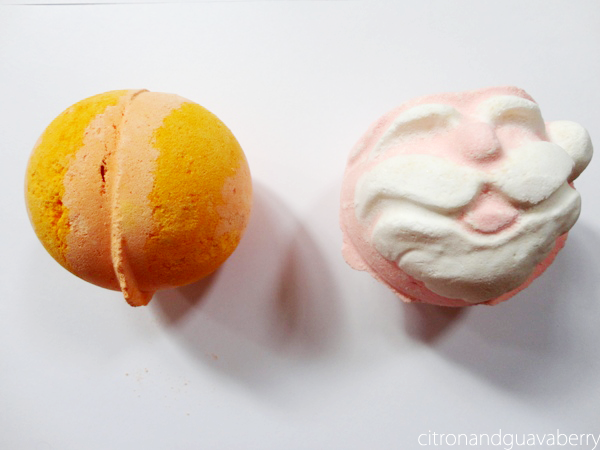 1) I don't know about where you guys live, but it is absolutely
freezing
in Toronto. I went into
Lush
to browse but ended up taking 2 citrus
bath bombs
home for a little pick-me-up to keep warm. I picked up: '
The Enchanter
' (lime and neroli) and '
Father Christmas
' (satsuma).
(...If it isn't apparent, I have a weakness for citrus scents...'
citron and guavaberry'
...)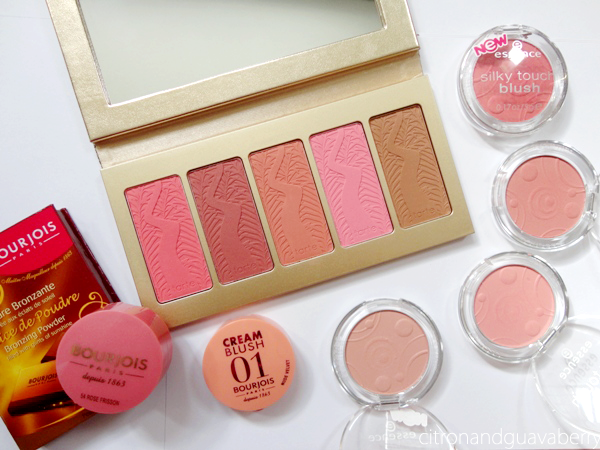 UHHHH, YEAH. IF THERE'S ONE PART OF MAKEUP I COULDN'T LIVE WITHOUT, IT WOULD BE BLUSH.
2. ASOS had a
Bourjois
sale, so I snagged their '
Delice de Poudre
' (52), '
Little Round Pot Blush
' (Rose Frisson), and their '
Cream Blush
' (Nude Velvet). Also, unpopular opinion, but
—
I
loathe
their 'rose' scent.
3. Of course, I already did a swatch/review post of the
Essence 'Silky Touch' blushes
(
here
!), but of course, I did snatch them all up.
4.
I am so incredibly fortunate to have a friend who works at Sephora
(thanks, May!)
(nothing like leaching off the hard labour of your friends, jk)
, so I managed to partake in the
'Friends and Family'
event!! I snagged
Tarte's 'Off the Cuff' blush palette
for 20% off!
(If Tarte were a physical, living male, we would get married and have loads of babies. I ship it.)
5. Also from Sephora, I grabbed 2 bottles of Living Proof's 'Full Shampoo' for my mom. My mom complains of itchy scalp when using other shampoos, and I've bought a lot of other paraben/sulfate-free shampoos for her, but this shampoo seems to be the only one that doesn't cause her to itch. LIVING PROOF, WAT'S UR SECRET?!?!?! (also, y so expensiuuuuuu)
6.
Nivea
had a new collaboration tub design with Giles Deacon, and since this moisturizer is part of my skincare routine, I snagged it. (i.e. I bought it for the limited edition tub.
shameless
)
7. Finally picked up a fall-appropriate lip colour, in the form of
Revlon's Lip Butter in Berry Smoothie
! I've had this for a month and it is such a
beautiful
, barely-there berry shade.
8. DID YOU KNOW
MAYBELLINE
MADE BRUSHES? Because I got giddy when I saw this brush at their Fall Collection stand. It's a
Dual Tip Eyeshadow Brush
, with one side for powder and the other for cream shadows. It's also incredibly soft!
EDIT: It's also cheaply made, one side of the brush fell of and I haven't even washed the brush yet....that's nice.

9. I ran out of soap at my house, and though
I went into Bath and Body Works without intending to buy anything
.....uhm, yeah....BUT IN MY DEFENSE, THEY HAD A
8 FOR $25 SALE ON SOAPS
. SO
#STEAL
(My mom disagrees though, with
#RIPOFF
, to which I kinda agree with considering I could've gone to Walmart/Target for ~less fancy~ ~generic scented~ soaps)
I picked up: Vanilla Wish, Autumn Bouquet, Bourbon Peach, Peach Bellini, Kitchen Lemon, Mountain Air, Aqua Blossom, and Candy Cane Bliss.
Sometimes fragrances derive from the most abstract things, eg. what on earth is 'mountain air'?????
GRATUITOUS SHOTS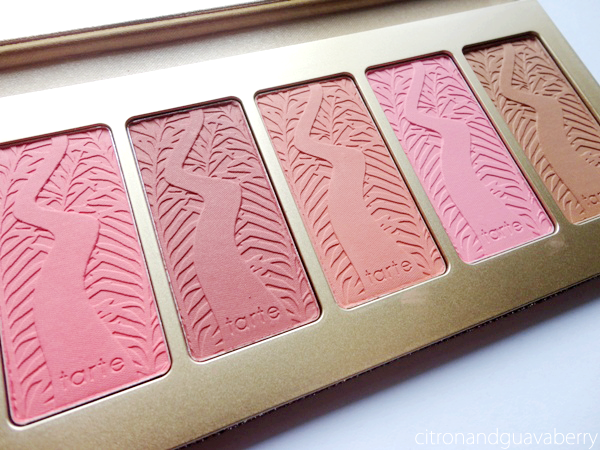 ______________________________________________________
I'll be doing swatches/a review post for the Tarte 'Off the Cuff' blush palette next, huzzah!
How are you guys dealing with school/work stress? Retail therapy? If so, tell me what you've picked up!
ʘ‿ʘ
(This is originally supposed to be a tag post for ~school stress made my buy it~ type thing, but it would have had a weird haul/tag execution, so I apologize to my fellow members of the 'Small Beauty Bloggers' FB group who wanted to do the weird tag-haul thing! :( Also, the rest of you guys should join our group because it can be a riot sometimes)
P.S. ANYONE WATCH/IS CAUGHT UP ON OUAT/OUAT IN WONDERLAND BECAUSE I NEED MORE HARDCORE SPAZZING/SHIPPING/THINGAMAJIGS AND WE CAN DO ALL THE FANGIRLY THINGS VIA MY PERSONAL TWITTER @EWVANESSAURUS, K?