Blushes are basically the only products I get excited about.
Well...and concealer.
I just think it's so
impressive
that there can be so many shades of peach, pink, coral, plum and red, all to flatter the cheekbones for a gorgeous rosy glow!
After being unimpressed with Essence's 'Stays No Matter What' eyeliner
(reviewed
here
)
, I decided to try again and buy one of their 'Silky Touch' blushes
(because you can never go wrong with blush!)
, and you know what? I was so impressed that I ran back for more! ʘ‿ʘ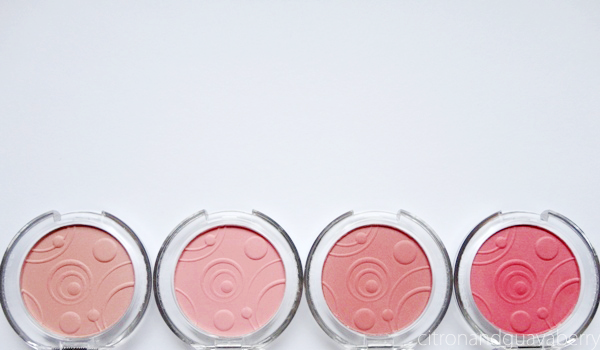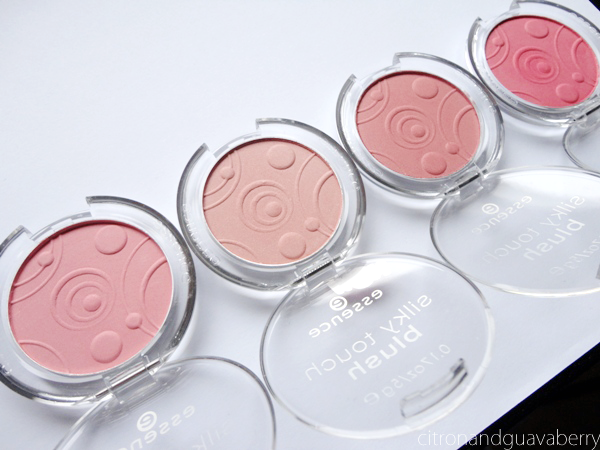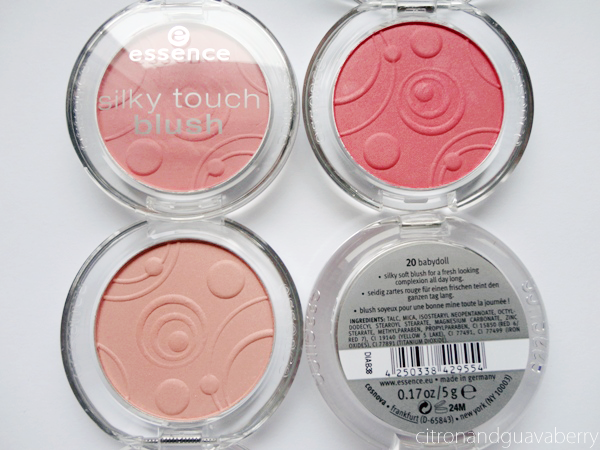 1st Row: Adorable (#10), Life's A Cherry (#60)
2nd Row: Sweetheart (#50), Babydoll (#20)
For those unfamiliar with the brand 'Essence', it is a German cosmetics brand, and their products can be found at Ulta, Shoppers Drug Mart, Walgreens, etc (complete list
here
).
All their items are under $5 CDN!!
I'm not sure if they currently have more shades out, but the ones I picked at Shoppers Drug Mart up are:
Adorable
(#10)
-
vibrant baby pink
Babydoll
(#20) - dusty rose/mauve
Sweetheart
(#50) - cool toned, pale pink
Life's A Cherry
(#60) - vibrant red-pink
(I am terrible at describing colours so when you see the swatches, you can make your own description, k? ._.'')
These blushes come in a basic, clear plastic compact with
no brush or mirror
, and cute little orbits (I hope they're orbits/solar systems!)
embossed on the product. Packaging and product are pretty sturdy—I've accidentally dropped ...'a few' from a decent height and experienced no cracking.
All shades have minimal shimmer.
Let's start with the pros, shall we?
Essence
did not mess around when they named their blush 'Silky Touch'
, because it is the
softest blush
I've ever had the pleasure of swiping! Ever feel those high end,
super buttery, super pigmented
eyeshadows (think UD, Lorac)?
This feels exactly like that.
The deeper shades of this line are also
ridiculously pigmented
, with
little fallout
, and you know what the best part is? THEY ARE
LITERALLY $3 CDN
(ok well, $2.99)
EACH
. THREE. DOLLARS.
RIDICULOUSLY UNDERPRICED.
When I first saw these blushes, I immediately thought, "Uh, why are these so small?"
.
Surprisingly, they contain
5 grams of product
, which is
more than
Wet N Wild's blushes (4 grams), Milani's baked blushes (3.5 grams), and Bourjois blushes (2.5 grams), and
they're cheaper too
!
These will actually last all day long on the skin without looking powdery, and are quite blendable.
But then, there's also cons!
In my opinion, the formula for this blush is perfect. However, I do have issues with the lighter shades of this line. It's not that they are not pigmented enough, it's just that they're just very light colours in nature and I wouldn't recommend the lighter shades for darker skintones because they will not show up.
Going on that point, I wish there are more shades released (and a larger shade variety) because 'Adorable' and 'Sweetheart' are really light, which means those of darker skintones only have 'Babydoll' and 'Life's A Cherry' to choose from.


As a I mentioned before, these blushes are ridiculously pigmented, so you might accidentally overapply. Make sure you use a light hand! If you do accidentally overapply, what I usually do is use the back of my hand and gently rub the blush towards my ear....like a cat...IT SOUNDS WEIRD, BUT IT DOES WORK TO BLEND/RUB OUT THE BLUSH. Alternatively, use a clean brush and buff out.

Speaking of pigmentation, another issue I have with 'Life's A Cherry' is that it can be a bit difficult to blend, but what I usually do is use the back of my hand to sheer it out.
TOO MUCH READING, LET'S SEE SWATCHES!
Shades Under Cool Lighting
Shades Under Warm Lighting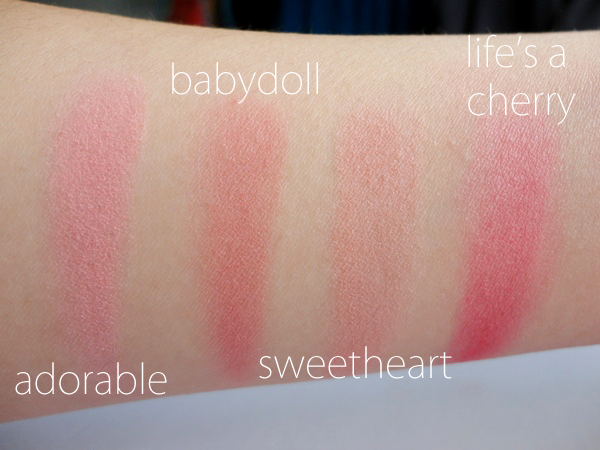 Ugly Quad of Face Swatches
(click to blow up at your own caution)(
someone tell me how to pose for selfies because I can't
)
______________________________________________________________________
TL;DR (Too long; didn't read)
PROS:
Ridiculously soft/smooth, not chalky
Great pigmentation; can be sheered out easily, or be built up
5 grams of product for $3 CDN; fantastic value for product
Basic small packaging makes it ultra-portable, but there's no mirror or brush included

(who uses the brushes that come with blushers anyways)
Limited shade range; Lighter shades will barely show up on darker skintones (or need to be built up)
'Life's A Cherry' is ridiculously pigmented, so you'll need to take some time to sheer/blend it out
You really can't go wrong with these (aka, I highly recommend!). I've already erased some of the embossing on the pans because they were just so darn soft and I could not stop touching them.
If you are hesitant to buy these, I suggest you start off with 'Babydoll' or 'Adorable' anyways because they are my personal favourites and are ridiculously beautiful on the cheeks + you really can't go wrong with spending $3 on a blush!
SO YEAH, THX 4 READING DIS FAR.