The amount of tag posts I have to do is
shameful
, so I thought I'd take a step back from all the makeup/serious posts and do a refresher. Hello autumn tag!
I was tagged by Lucy of
A Little of Lucy
(thank you Lucy!), so let the festivities begin!
(like my answers are anything festive)
_____________________________________________________________
1. What is your favourite thing about Autumn?
Generic answer of sweaters, cozy knits (thinking about knitting matching sweaters for my dog and I--hers will read 'puppy' and mine will read 'human'), apple + pumpkin baked goods, stepping on crunchy leaves, etc.
For a less generic answer--
FINALLY I DON'T HAVE TO SEE HALF NAKED PEOPLE
(THX 4 DA UNWANTED FREE STRIPPER SHOW, SUMMER),
AND ALL MY FALL TV SHOWS RETURNNNNNNNN :'D.

2. What is your favourite drink?
I tried the pumpkin spiced latte...in frapp form a few years ago and didn't enjoy it ._. (I should probably try the latte though)
For a non-autumn specific answer, Silk's Coconut milk.
It's the bomb diggity.
3. Favorite scent/candle?
Currently in love with BBW's 'Nutmeg and Spice'. Not sure if it's a limited Christmas candle though.
NUTMEG + CINNAMON + CLOVES = TRIFECTA.
4. Best lipstick?
I'll get back to this question...eventually.
(-
hangs head in shame because I still need to pick up one fall lipstick
-)
5. What's your go to moisturiser?
During the colder months, I'll just slap on olive/jojoba oil biweekly. My face is ready for frying, y'all. (Mmmm, dat golden brown)
6. Go to colors for the eyes?
YOOOOOOOOOOOOOOO (yeah I should stop saying that but) I PICKED UP RIMMEL'S SCANDALEYES EYESHADOW STICK IN '
BAD GIRL BRONZE
' and I just think it's a beautiful deep bronze shade that I'll be wearing throughout autumn!
Here's a swatch: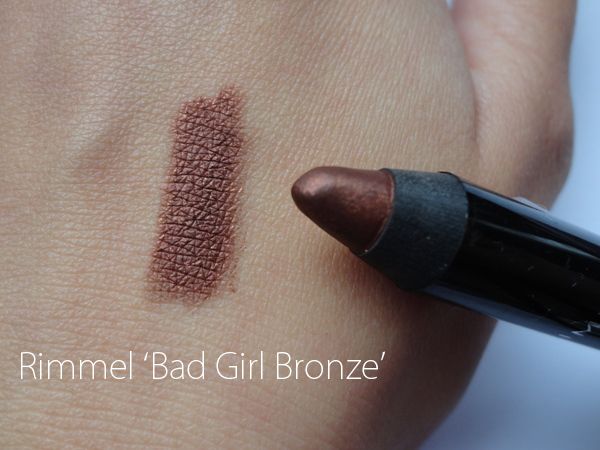 MY HANDS LOOK SO WRINKLY WHY
7. What's your favourite music or band/singer to listen to?
-shrug-
-
cues Green Day's 'Wake Me Up When September Ends'
, ...
which is actually today omg
-
8. What's your favourite outfit to wear (i.e. boots & a scarf combo)?
I go into ~Oxfordy/Academia/hipster~ mode when autumn hits, which means oversized sweaters + cardigans over button ups/dress shirts, and the usual black jeans or slouchy ~beige~ trousers. (Basically, menswear inspired ._.)
9. Autumn treat?
Children's trick-or-treat candy. Nothing like feasting on the hard labour of children. -evil cackle in the distance- (JK THO)
UHHH, baked goods with apples + loads of spices (crumbles, pies, muffins).
(But no seriously, does Halloween candy count as autumn treats though?...)(
shameless
)
10. What's your favourite place to be?
My bed.
_____________________________________________________________
I KNOW I'M SUPPOSED TO TAG PEOPLE, but I won't because I know people are busy with work/academic activities, so feel free to do this tag, or leave your answers in the comments section!
TO MAKE UP FOR MY LACKLUSTER ANSWERS, HERE'S A GIF OF MY DOG ˘◡˘ (she turned 3 years old recently!)
HAPPY LAST DAY OF SEPTEMBER, EVERYBODY!