The previous week and this week has been a bit crazy in the ~spending~ department, mainly because it was my birthday last week (and with my birthday comes school stress), and Shoppers Drug Mart decided it would be a ~fantastic~ time to have an impressive makeup sale this week. Armed with coupons and the promise of sales, I made multiple journeys to Shoppers, and finally at last, I present to you my spoils of war.
(I have to resist making a 'STARTED FROM THE BOTTOM NOW WE'RE HERE' joke every time I mention Shoppers Drug Mart)
My haul bag.
Paper bags are the cutest.
SHOW ME THE GOODS.
__________________________________________________________________
I genuinely thought these few items would be the only items I would be picking up for my 'birthday'. HAHAHA, was I ever wrong.
Anyways, I picked up:
1)
Kate Somerville's 'ExfoliKate Intense Exfoliator'
from
Sephora
. I got a free sample and used it recently and was so impressed by the results until I found out it was
$105 CDN ($80 USD) for 2 oz
.
HELLLLLL NAW.
But $25 for 0.5oz seemed more reasonable, so I picked it up.
2)
Benefit Birthday Kit
from
Sephora
.
3) A
Brazil Nut Body Butter
from
The Body Shop
. I am soooooooooooooooo in love with the scent of the brazil nut body scrub, so I decided to pick this up as it was on sale. Unfortunately, while it still smells fantastic, the scrub smells waaaaaaaaaaay better, and
I really encourage you guys to take a whiff of the scrub
.
4)
Real Nature Masks
(x4) from
The Face Shop
. I picked up Kelp, Aloe, Bamboo and Avocado. (Uh, my brother and I used up 2 before we could photograph them. It was exciting.)
_________________________________________________________________
Shoppers Drug Mart has a
Maybelline sale this week (in Toronto), with most products being half off (now $5-6 apiece)
, and with the purchase of certain items came 2000 extra points, so I went a
little
crazy.
(Today is the last day of the sale, so if you live in Toronto, you might want to check it out!)
Here are the items from Shoppers that I picked up:
1) I hear Emily Noel/
emilynoel83
talk often about the
Maybelline Master Drama Eyeliner
, so I picked it up in the shade '
Midnight Master
'. (Funny story, I couldn't remember the name of the product so I had to stand for a good 10 minutes looking for the shade named 'Midnight Master' amongst various lines)
2)
Maybelline's 'the Mega Plush', 'the Falsies', and 'the Rocket' mascaras
. I've been wanting to try these three for the longest while now, so I picked them up (with the liner), and received 4000 extra Shoppers Optimum points (get 8000 to redeem $10 off, so that's a pretty good deal).
3)
Maybelline Color Tattoos
. I picked up
'Bad to the Bronze'
, got home, looked at
Jenn's Color Tattoo collection and swatches
, proceeded to sob, then went out again and picked up
'Pomegranate Punk'
and
'Barely Branded'
. (IT'S ALL YOUR FAULT, JENN)
4)
Actually, I lie.
Shoppers doesn't sell Milani.
I picked up Milani's 'Liquid Eye' eyeliner in black at Walmart.
5) I had
Rimmel
coupons, and some products were on sale, so I picked up their '
Exaggerate Waterproof Eye Definer'
in black.
6) But no seriously,
coupons + sales = otp
.
I used my
Rimmel
coupon and got the
'Match Perfection Blush'
in 'light', and it's basically three blush shades in one.
7)
Essence Shimmer Powder
. This is part of their limited edition summer line, 'Ticket to Paradise', and when I saw it at my local Shoppers yesterday (in Fall...), I flipped because the
embossing is so pretty.
Right then and there I knew I needed to have it, and it's
only $4
! They make
beautiful
limited edition products, e.g. THE BLUSH BELOW THAT I DON'T OWN ;-;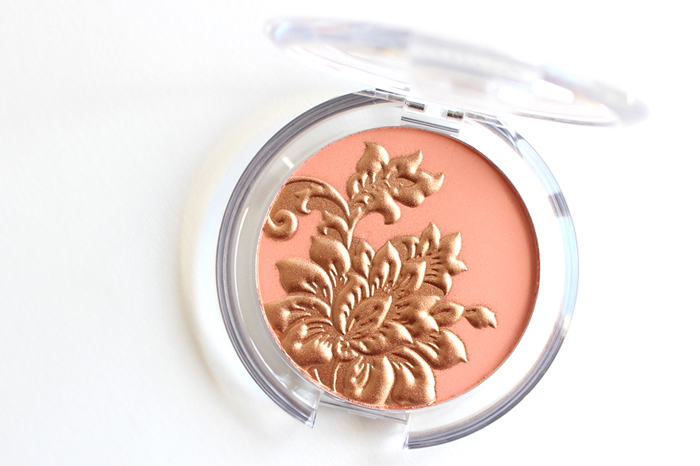 8)
Almay Liquid Lip Balm
in
'Rosy Lipped'
.
I picked this up for $3
AFTER SALES AND A $4 COUPON. HOLLAAAAAAAAAAAAA
Gratuitous shots
The embossing *_*
______________________________________________________________________
BFF decided to give me a gag birthday present, but this card is the bomb diggity. Now I can have an ugly photo of the ~two of us~ sitting on my desk, just like ~in the movies and tv shows~.
Irrelevant, but my dog decided to walk into my room the other day
AND HOLY BEDHEAD I SPENT A GOOD 10 MINUTES LAUGHING AT HER JEEBUS SHE LOOKS LIKE A GRUMPY TRAINWRECK.
______________________________________________________________________
But yeah, hopefully I'm done makeup shopping for a while!
Because I really need to look for a job...
What have you guys picked up recently?