If I had to choose a favourite segment of this blog, it would definitely have to be my 'liner-off' series! :D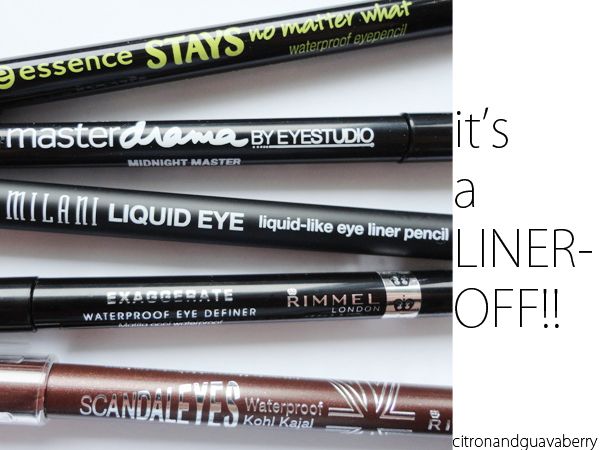 GIFS. SWATCHES. TEARS
(well, water test)
.
FRICTION
(smudging, basically...)
.
WHO WILL BE AMERICA'S NEXT TOP MODEL LINER?
INTRODUCING OUR CONTESTANTS FOR TODAY:
ESSENCE'S 'STAYS NO MATTER WHAT' EYEPENCIL
MAYBELLINE'S 'MASTER DRAMA' EYELINER
MILANI'S 'LIQUID EYE' EYELINER PENCIL
RIMMEL'S 'EXAGGERATE' WATERPROOF EYE DEFINER
AND
RIMMEL'S 'SCANDALEYES' WATERPROOF KOHL KAJAL
MAY THE FORCE BE WITH YOU
MAY THE ODDS EVER BE IN YOUR FAVOUR
LET THE GAMES BEGIN.
Yeah, sorry for the ~dramatic~ intro...I'VE BEEN WATCHING TOO MUCH X-FACTOR DON'T MIND ME.

THE WHOLE SHEBANG BEHIND THE CUT!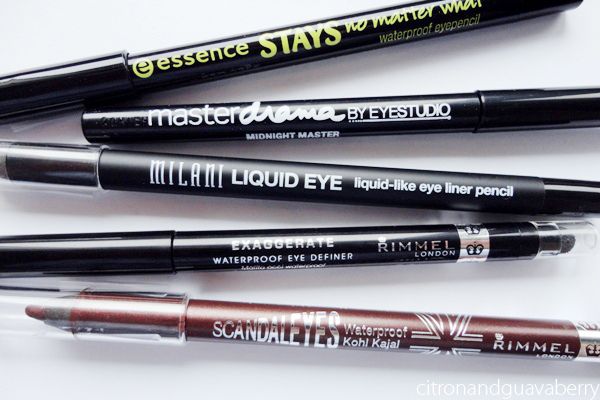 All these liners are all pencil or automatic liners. No liquids or gels here!
______________________________________________________________________
First up, we have Essence's 'Stays No Matter What' waterproof eyepencil in the shade 'Midnight Black'! It is the cheapest liner in this batch, going for $2, but you have to sharpen it. Has a dry, waxy texture going on the skin, but it still goes on smooth.
And here is
Maybelline's 'Master Drama'eyeliner
in the shade 'Midnight Master'! I hear Emily Noel/
emilynoel83
talk about this liner often, so I decided it was time to try it out! It glides on very smooth, but you will need to build it up (which is no problem because it's so smooth!).
Next up, Milani's 'Liquid Eye' eyeliner pencil!
YOOOOOOOOOO I STARTED A LONG LINE OR SWEAR WORDS WHEN I SAW HOW RICHLY PIGMENTED AND CREAMY THIS LINER IS. LOOK AT IT!!! YOU DON'T EVEN NEED TO APPLY TOO MUCH PRESSURE AND I CAN'T DEAL WITH THIS SORCERY RIGHT NOW.
BUT YEAH, this was another liner that Emily Noel raved about, and I'm so glad I gave it a try! Milani also claims this liner is waterproof.
I'm pretty sure every liner after Milani pales in comparison, but we can't forget about our Rimmel liners!
Loads of people recommended me these two liners, so I thought it was about time I gave them a try!
Here is
Rimmel's 'Exaggerate' waterproof eye definer
.
Goes on smooth, but you will have to build it up quite a bit for an intense black! This comes with a sharpener and a smudger, which is quite convenient! Not a lot of automatic liners come with sharpeners, so it was a nice touch.
Finally, here is
Rimmel's 'Scandaleyes' waterproof kohl kajal
liner in the shade 'brown'!
This shade goes on very smooth and creamy, much like Milani's 'Liquid Eye', and you can build it up without too much tugging. There's a hint of sparkle in this liner (to my surprise!), but when built up, the sparkle gives a wonderful almost-coppery depth to the brown. I do quite like this shade!
(but let's face it, my eyes ~sparkle~ enough as it is)
______________________________________________________________________
ALRIGHT, so we've seen how they go on the skin, but will they last the ~perilous~ daily circumstances? Allergies, watery eyes, tears
(from your otp, lets face it, it's tv season)
, and itchy eyes are all threats to even the most resistant liner.
Here is an overall view of all five liners, built to maximum opacity.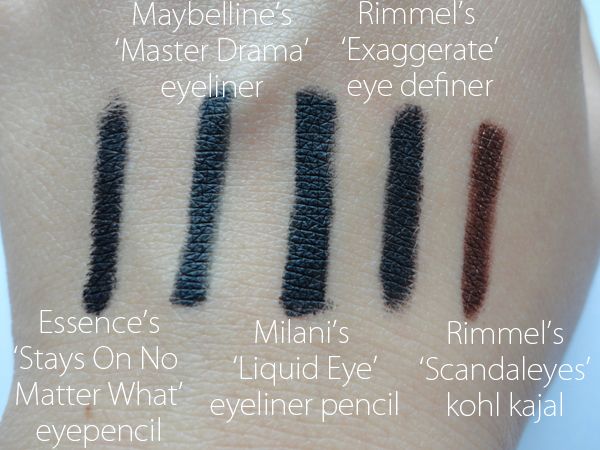 Among the black liners, Maybelline is the lightest, while Essence and Rimmel's 'Exaggerate' are the darkest.
Unless you're on the computer for extended hours and have developed an unnatural advantage in staring contests, then blinking and eye rubbing is a problem to be faced.
Here's a
smudge test
!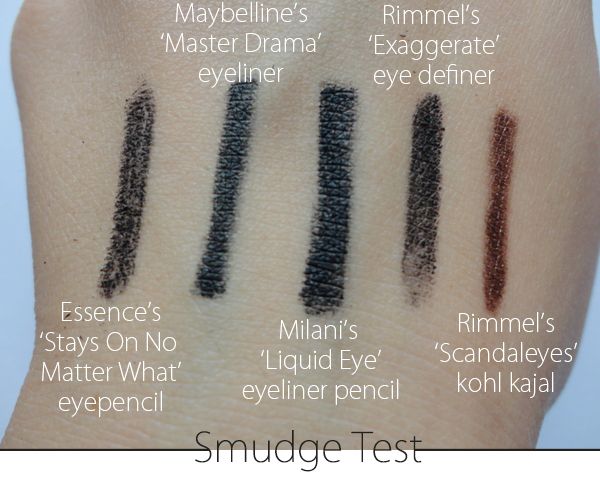 At some point I had to just stop rubbing Essence's liner because it was getting embarrassing. ._.''
I rub pretty hard though, and as you can see, most of the liners have rubbed off to various degrees. I think Milani held up well though, considering how creamy it goes on.
But of course, with smudging comes excess tears!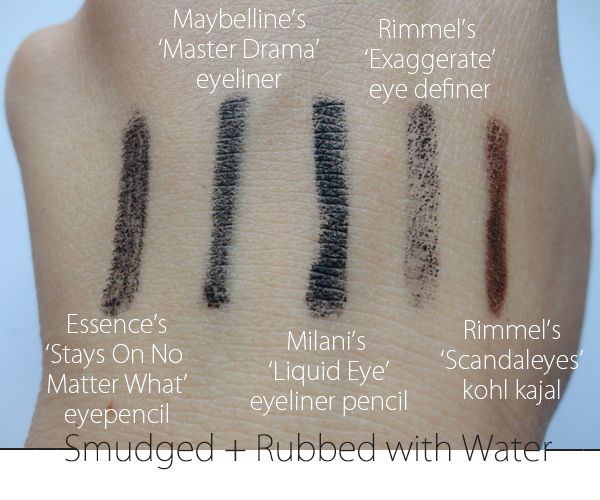 UHHHH....so I ran my hand under the tap with the 'smudged' results, and rubbed my hand simultaneously. Rimmel meant business when they said 'Scandaleyes' was a 'waterproof kohl kajal', but 'Exaggerate' on the other hand...yikes.
I thought it was unfair to dry smudge the liners, then rub them with more water, so here's a water + smudging (simultaneously) + blot test. (i.e. a less rigorous test to recreate the process of eye rubbing, forming excess tears, and wiping these tears)
Here's an overall view, for comparison.
And here are the results of the less
rigorous water + smudging + blot test
.
(I have also realised I have tissue bits on the swatches, yikes/sorry!)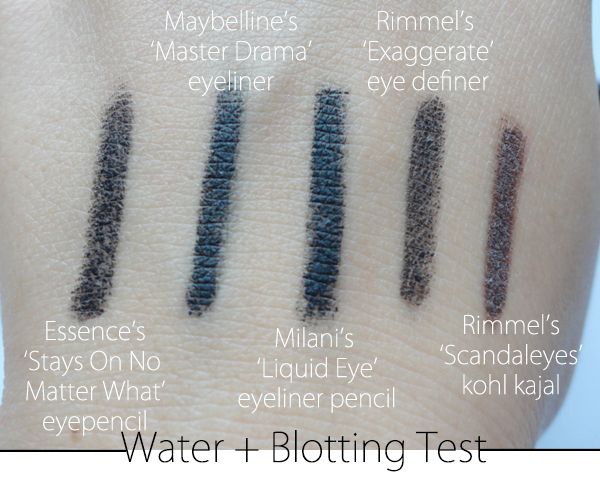 ....RIMMEL 'EXAGGERATE', YOU WERE SUPPOSED TO BE A 'WATERPROOF EYE DEFINER' AND I GAVE YOU A SECOND CHANCE.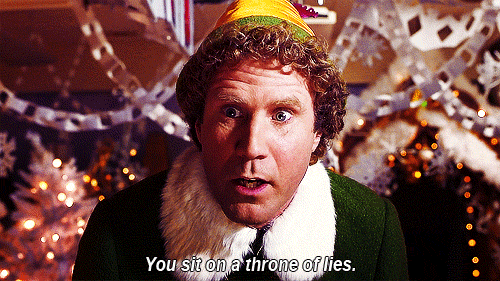 Rimmel 'Scandaleyes' on the other hand, as well as Maybelline and Milani, have held up well!
Final Thoughts
- Essence 'Stays On No Matter What', contrary to it's name,
does not stay on no matter what
.
Minor rubbing for this very dark liner is alright
, but if you've got
itchy eyes, or rub your eyes often
(ok well, no one plans on rubbing their eyes, but)
, this is
not the liner for you.
- The Essence liner is $2 CDN, which is relatively cheap, but it's also difficult to sharpen because it is PVC/plastic, and although it's weird and fun to sharpen plastic, it is also a hassle because it is more resistant than traditional wood.
- If you're going to buy Rimmel eyeliners, skip 'Exaggerate' (the attached sharpener and the smudger is a nice touch though), and head for the 'Scandaleyes'. The 'Scandaleyes' are a bit cheaper, and perform much better than the 'Soft Kohl' and 'Exaggerate' pencils.
- Out of the three, Maybelline's 'Master Drama', Rimmel's 'Scandaleyes' and Milani's 'Liquid Eye' are all very, very good liners, and I honestly have trouble deciding which out of the three I like best. Ultimately, however, I would probably choose Milani over the other two, because GO LOOK AT THAT SWATCH GIF AGAIN. IT'S LIKE PORN, HONESTLY. It's incredibly creamy and pigmented, and goes on smoother than a unicorn being caressed with silk bloomers. I'm so dead serious. (Don't ask about the terrible simile)
______________________________________________________________________
I hope you enjoyed this post! (...maybe?) If you have any other details you'd like to know, or if have any eyeliner suggestions, toss them into the comment box!
(Yeah, you guys are probably just like Dave/Brad/Jane in the gif right now...don't mind me, eyeliners call for an intense discussion)